FRONTguide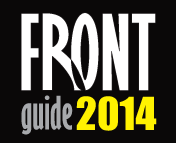 [ Click Here ] to
download the 2.5 MB PDF

Issues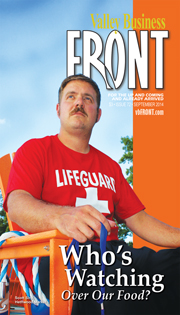 Click on the picture to view the September 2014 Issue

or [ Click Here ] to
download the 10.0 MB PDF


| | | |
| --- | --- | --- |
| | | |
| August 2014 | | July 2014 |
| | | |
| June 2014 | | May 2014 |
| | | |
| April 2014 | | March 2014 |
Your September 2014 Issue
One of our readers said she went to a local farmers market (they're popping up everywhere) and asked about organic vegetables.

"They're for my nit-picky husband," she said. "Have they been sprayed with poisonous chemicals?"

"No, ma'am," she was told. "You'll have to do that yourself."

We have to watch out for the safety of our food. And there are others overseeing this food supply chain that every day – ends up on our tables, passing through our gullets, and digested throughout our bodies. We hope.
It's an important business. An story of critical importance.
Regardless whether you get along with your spouse or not.

Pull up a chair, place the napkin in your lap, and have a read. After you wash your hands thoroughly, of course.
Remember, we cover all FRONTs in every issue!
The FRONTcover story is an additional exploration
along with our ongoing coverage.
_______________________________________
Behind the Business Scene — with Katie Love

A Profile Pulled from the Pages of
Valley Business FRONT magazine

October 25, 2013
October 11, 2013
_______________________________________

This Just In
February 20, 2014
January 28, 2014
January 23, 2014

FRONT in the news