Issues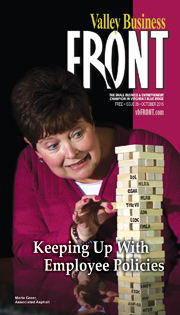 Click on the picture to view the October 2015 Issue

or [ Click Here ] to
download the 8.4 MB PDF


| | | |
| --- | --- | --- |
| | | |
| September 2015 | | August 2015 |
| | | |
| July 2015 | | June 2015 |
| | | |
| May 2015 | | April 2015 |
Your October 2015 Issue
The challenges that today's human resources departments must keep up with are complex to say the least. Tons of regulations and compliance issues and policies. A complicated tower of state and federal agencies, blocked up against internal corporate demands and external suppliers and providers to manage this or that.

It all kind of makes you wonder what an HR administrator does after working hours. I bet they'd be excellent at an intricate game like Jenga. I also bet they don't play it much...

That would be too much like their day job.
This Just In
Visit (and Like) our Facebook Page for Current News

FRONT in the news
FRONT Publisher discusses Superbowl advertising strategies on WSLS 10 Television (01/30/15)
FRONTstory on "MetroDogs: Urbanizing Pets for Downtown Living" featuring City Dogs and High Hopes Dog Training on "Behind the Business Scene" WSLS 10 Television (10/25/13)
FRONTstory on "Agritourism at Work" featuring Joe's Trees in Craig County on "Behind the Business Scene" segment WSLS 10 Television (10/11/13)
FRONT Publisher talks about "Job Interviews" on WDBJ 7 Television (04/19/12)