Issues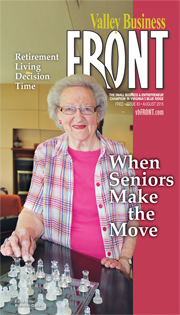 Click on the picture to view the July 2015 Issue

or [ Click Here ] to
download the 9.7 MB PDF


| | | |
| --- | --- | --- |
| | | |
| July 2015 | | June 2015 |
| | | |
| May 2015 | | April 2015 |
| | | |
| March 2015 | | February 2015 |
Your August 2015 Issue
In the game of chess, you can lose by being checkmated, conceding or resigning the game to your opponent (when in a hopeless position), running out of time (in time-controlled games), or forfeiting (cheating, violating the rules, or as a punishment in high-level tournaments—such as arriving late or unsportsmanlike behavior).

Unfortunately, seniors can be placed in the same predicament when faced with the decision or necessity to move out of the home. Ideally, you want to have the upper hand or at least be able to play on fair chance terms when you're at this point in the game.

The good news is that if you've at least been able to remain on the gameboard when it comes time to make your move, you have more options than ever these days. Our FRONTcover story is about making that decision.
Your move.
_______________________________________
Behind the Business Scene — with Katie Love

A Profile Pulled from the Pages of
Valley Business FRONT magazine

October 25, 2013
October 11, 2013
_______________________________________

This Just In
February 20, 2014
January 28, 2014
January 23, 2014

FRONT in the news