FRONTguide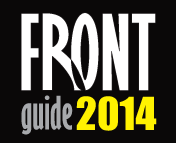 [ Click Here ] to
download the 2.5 MB PDF

Issues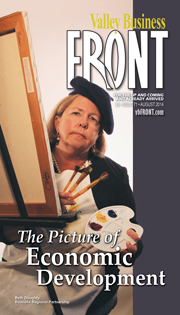 Click on the picture to view the August 2014 Issue

or [ Click Here ] to
download the 11.1 MB PDF


| | | |
| --- | --- | --- |
| | | |
| July 2014 | | June 2014 |
| | | |
| May 2014 | | April 2014 |
| | | |
| March 2014 | | February 2014 |
Your August 2014 Issue
The subject of economic development is always a big deal for business publications. We have to cover it. We're actually covering economic development in every issue at all times all year long with the stories we bring you about this business and that business and what they're doing in big and small ways. But the broader topic—as in how a community or region should approach the building or sustaining of a local market economy—is something a select group of individuals and organizations gets to do as their top mission. While we're all busy and scurrying around getting our work done, those in the economic development field are trying to establish an environment where that scurrying can continue to take place. This edition of FRONT shows you their perspectives on the important task at hand.
When you stop scurrying you get behind.
We'd rather be in FRONT.

Remember, we cover all FRONTs in every issue!
The FRONTcover story is an additional exploration
along with our ongoing coverage.
_______________________________________
Behind the Business Scene — with Katie Love

A Profile Pulled from the Pages of
Valley Business FRONT magazine

October 25, 2013
October 11, 2013
_______________________________________

This Just In
February 20, 2014
January 28, 2014
January 23, 2014

FRONT in the news