FRONTguide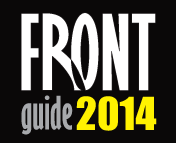 [ Click Here ] to
download the 2.5 MB PDF

Issues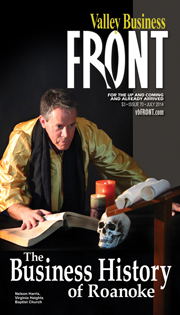 Click on the picture to view the July 2014 Issue

or [ Click Here ] to
download the 9.9 MB PDF


| | | |
| --- | --- | --- |
| | | |
| June 2014 | | May 2014 |
| | | |
| April 2014 | | March 2014 |
| | | |
| February 2014 | | January 2014 |
Your July 2014 Issue
Our FRONTcover story for this edition is all about Roanoke. We've done reports on the business networks at many of our communities over the past 70 issues, but this time, we decided to present a simple chronological listing of the major business impacts that built the City of Roanoke into what it is today. It's a story—a history; and it shows what commitment and investment and hard work can do for a place that has been labeled both "big enough... and small enough." A characteristic that is dependent on your perspective and, for the most part, what is important to you. From a business perspective, we'll always have plenty of work to do, along with plenty of opportunity. We're exciting to keep the momentum. Moving forward. Making our contribution. Improving. Doing our part to stay in FRONT.
As we've said elsewhere (and someone had the foresight to make manifest) we live in a place that's worthy of a star.

Remember, we cover all FRONTs in every issue!
The FRONTcover story is an additional exploration
along with our ongoing coverage.
_______________________________________
Behind the Business Scene — with Katie Love

A Profile Pulled from the Pages of
Valley Business FRONT magazine

October 25, 2013
October 11, 2013
_______________________________________

This Just In
February 20, 2014
January 28, 2014
January 23, 2014

FRONT in the news